Like anything artistic, web design trends are often fluid and constantly moving. 2018's trends have provided our designers with the opportunity to be more daring and energetic with their projects, which has, in turn, has created some of our best work yet. Here is a compilation of trends we have seen while working on client web pages recently. These can act as inspiration to get your juices flowing for your next website redesign project.
1) Geometric Layers and Polygon Shapes
The last time many people have thought of geometric shapes was during their last geometry class, but for our designers, they have been a huge point of inspiration. Geometric shapes add a sense of consistency to your website, can be visually pleasing, and can display multiple sets of information.
Rutgers Business School offers an example where the use of geometric shapes not only creates a great aesthetic and flow for the webpage, but helps guide users to learn more about particular programs. Geometric shapes could also help users choose their intended destination on the site through different calls-to-action. Web design trends aren't always as logical as geometric shapes, but in this case, they're beautiful.
2) Pivoting to Mobile
Websites have been grappling with how to display their data on mobile as effectively as it's presented on desktops for years. And with users becoming more and more mobile-dependent, this is essential in creating a user-friendly experience.
Close to 95% of Americans now own a smartphone, and 28% of 18- to 29-year-olds use smartphones exclusively for online access.
The most effective way found to do this is by creating a simple mobile version of the website compared to the more complex view of a desktop. But creating two separate web pages, one for mobile and one for desktop, doubles the work for content creators and risks discrepancies on your site. That is why Google has created Google AMP, a new process that automatically optimizes websites for mobile. This web design trend is one of the most objectively useful changes made in the web design world. And although this is a new feature, websites have been fairly receptive to it. The statistics coming from it are good news for websites so far.
3) Extreme Colors
Older sites are notorious for having a lack of visual appeal, and adding bold colors is a way to create a more dynamic and eye-catching element to your webpage. Draw in your users using vibrant colors that can drive users deeper into the site. Colors can be used as a strategic way for users to interpret content without utilizing design or typography.
4) Textured Treatment
Texturing images can give your site a more dimensional and realistic feel. This works especially well for higher ed websites because you can showcase the surrounding area of the school while also focusing on a particular student, which can appeal to prospective students.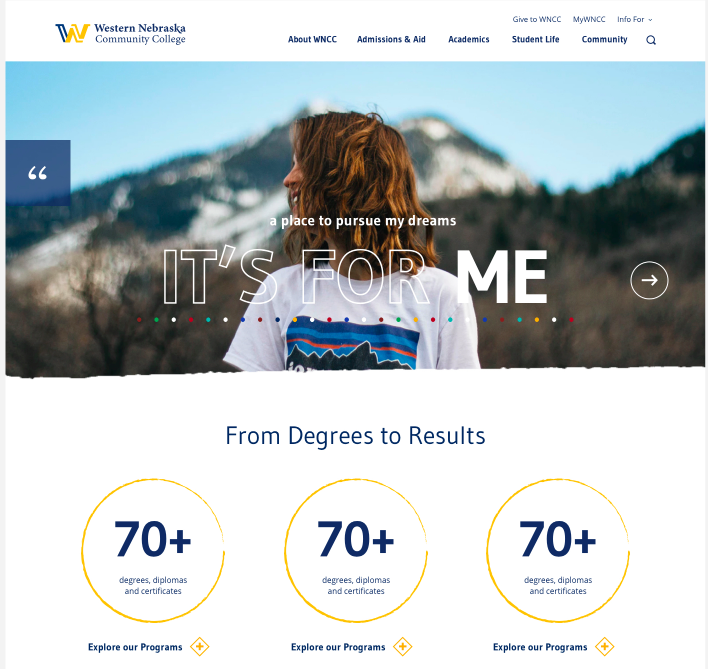 5) High-Quality Ambient Photography and Video
Adding high-quality visual elements draws in the user while also illustrating the beauty that surrounds your organization. Whether it be a photo slideshow or ambient video, users will love seeing what it's actually like on campus. One thing to keep in mind when using video and photos throughout your webpage, however, is to add alternative text. Being accessible to all of your users, even those who rely on assistive technology should be a top priority.
Why You Should Follow Web Design Trends
Implementing these elements into a website helps create a cohesive message for the organizations we serve. We have seen the good, the bad, and the ugly of web design trends, but have also seen a lot of success at iFactory. Finding what clients want to highlight, and the best way to illustrate those often become an essential part of the design phase of our projects. But the outcome of what we choose is always what serves our clients best. займы онлайн без залога