In this digital era, a new vocabulary is emerging – one based entirely in an online world. Web design and development belong to an ever-growing industry that simply did not exist 30 years ago. Job opportunities are rising, but this also means that the industry is evolving and getting more complex every year.
Web design terminology has changed along with the industry itself. Jobs and job titles are also evolving. My name is Elizabeth Cavallo, and I am a marketing co-op at iFactory. This means I am still a student and learning about the industry as I go. One of the most confusing things I found, when working here, was understanding job titles, the responsibilities that belong to them, and how they all work together.
Logistics
These teams work with clients before any actual design or development work begins. They are the first and main points of contacts with the client, and if you've worked with us, they're probably the people you have met in meetings and on calls before.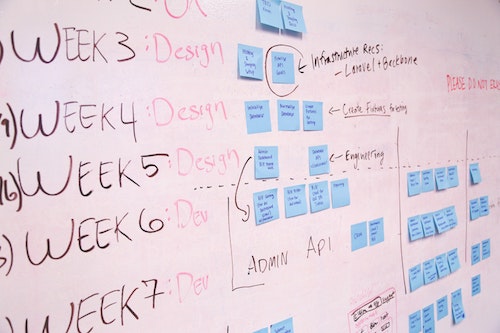 Sales Executive
Our sales team creates the proposals for clients, and they put together a basic plan of what the client needs. They are actually our first touch-point when working with new clients. They are the representation of who iFactory is and what we do. If you're interested in working with iFactory, chances are you'll be speaking to someone on this team.
Strategy & Account Service Manager
Our Strategists and Account Service Managers are charged with the first deliverable on the project, the Strategy Report. The Strategist combines what they learn from the Discovery phase, and what they know about best practices and create a strategy report. The Account Services Manager works to manage and deepen the client relationship based on iFactory's core belief that people work best when they feel happy and supported. They are the main point of contact between the internal iFactory team, and our client partners.
Producer
The producer is like the project manager, handling the resources, schedule, budget, scope, communication, utilization, and teams on the project from inception to completion. They care about getting the project done efficiently, as well as making sure it's an enjoyable experience for everyone. They work closely with our internal teams when working on a project.
Design and Content
The IA/UX, Content Strategy, and Design teams are the first practitioners to start work on a website. Everything that is interacted with, or read on this site, is designed and created by these teams. They work with clients further along in the process and work between teams often.
Information Architecture / User Experience Designer
These kinds of designers are all about the art and science of organizing and labeling the structure of sites based on users' mental models and content flows. You might meet them at a town hall, or building a wireframe for the website. They help to improve the usability and accessibility of the site and provide a strong framework the client can build from after our work has ended. At many studios, IA and UX designers are on different teams, performing different tasks. But at iFactory, they are combined into the same job, for better communication.
Content Strategist
Content Strategy might sound like a strategist, but it is actually very different. Our Content Strategists' main focus is to help the client determine the priority content for the site, and possibly help them create it, depending on the scope of the project. They will take all current site content into account and will identify that key content based on the key site audiences, tasks, and strategy objectives. This can be one of the most time-consuming parts of the website redesign process, and this team has a lot of knowledge. So make sure you take their opinions into consideration.
Interactive / Visual Designer
Visual Designers are what you think of when you think of web design. iFactory's interactive designers create great experiences by combining a client's branding, best practices in interface design, and conceptual thinking. They do this primarily through creating visual mockups when working on a project. The visual design phase is where all of the previous research and planning come together into a visible solution that is usable, simple, and beautiful.
Development
Our dev team is mostly remote, living all across New England, who commute in occasionally. But we have a team that has multiple specialties with a combined experience of over 50 years.

Front End Developer
Simply, the development team brings the site to life. Once the designs are finished, the development team takes the flat, static files and turns them into live HTML, using CSS, Javascript, and HTML5 code. They help to turn the creative ideas and functionality set forth by the IA/UX and Visual Design teams into reality.
Back End Developer
This is where the development team sets up the CMS (Content Management System) to work with the new templates (structure) we created. The back-end is where all the content is added, maintained, updated, etc.
Web Design Jobs
A web design studio has a lot of different jobs, and responsibilities that each member has to take care of. And the web design terminology we use can be confusing! Our teams work together on every project, and we have a lot of overlap between jobs. We also regularly take on co-ops, like myself, who are also students at Northeastern and work on almost every team, and are a part of the process.