Elevating Digital Experiences for Vision Loss Adaptation
GLOBAL THOUGHT LEADERSHIP
Transitioning from a School to a Digital Beacon of Hope
Once known as a school for the blind, Hadley transformed itself into a global thought leader on the issue of how adults who experience vision loss can adapt and thrive. 
Part of that transformation involved the creation of a ground-breaking online experience where adults with vision loss could discover engaging content, learn adaptive skills, get helpful tips, connect with experts, and be part of a supportive community.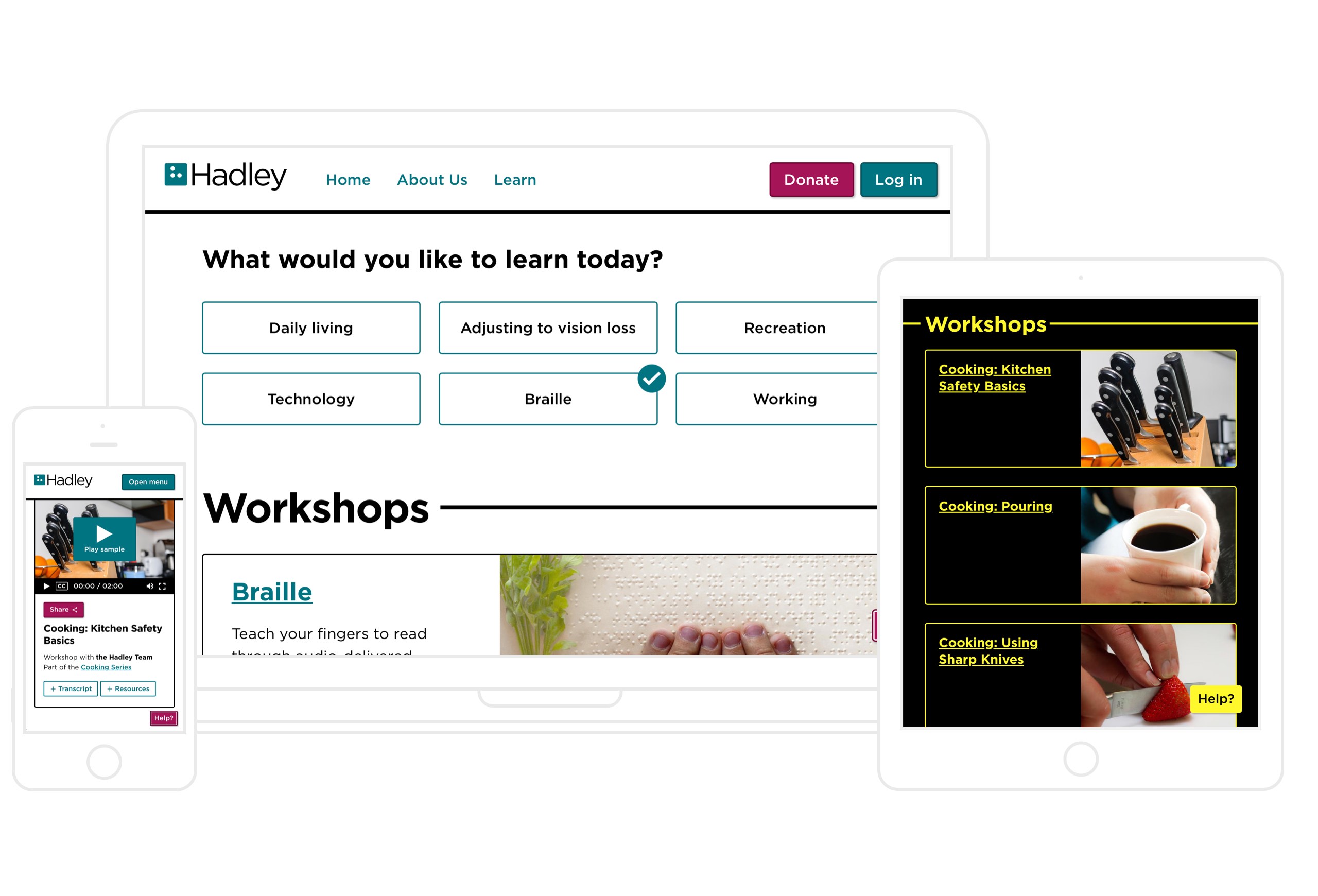 A GROUND-BREAKING PRODUCT
Redefining Web Accessibility Standards
With 75% of vision loss instances being age-related, the market need for an online product focused on the creation of a learning community was enormous. Hadley decided the industry gold standard for accessibility was not enough for what they envisioned. This new digital experience needed to set a whole new standard for user interface design, one that actually delighted adults with vision loss while providing them with useful content and valuable resources. 
iFactory's innovative front-end was supported by a robust Drupal back-end for content management, integration with Salesforce for customer management and online chat functionality, and Opigno's Drupal-based learning management system (LMS) for skill-based features such as Hadley's online workshops.
The product would be groundbreaking – an innovative user experience designed to take web accessibility to a whole new level.
Crafting a Seamless Online Experience with Advanced Features
Together, the Hadley and iFactory teams designed a highly customized UX that provided unique options for color, contrast and font size settings. Every piece of content, every user interaction, and every user flow of the customer journey was engineered to ensure a world-class user experience. We believe this product has set a new "platinum" standard for web accessibility.
Discovery, Design, IA/UX, Development
"Re-launching a 100-year-old brand to a new market was a daunting task. It helped to know that the iFactory team felt as invested in our success as we did. The new Hadley platform has positioned us well - serving those facing vision loss well into our second century."
Joan Jaeger, Chief Marketing Officer
We're here to help you transform your digital presence.  If you'd like to work with us, get in touch.